"The future of vaping is here!"
One simple device and your choice of prefilled pods with satisfying nicotine salt or your favourite choice of Vape Juice.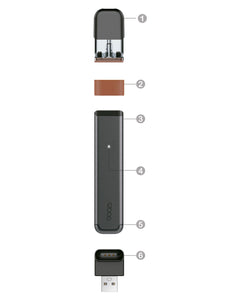 VOOM E cigarette
1. VOOM Pod
Insert a pod to vape, with magnetic lock
2. VOOM Pod Cap
Colors represent flavors, remove before use
3. Rechargeable VOOM Device
No set-up, easy to use
Delicately simply and slim design
320mAh long-lasting battery
Supports 3 days of average use
4. 3-color LED indicator
5. Seamless joint-material technology
6. USB Charging Dock
Recharge your device in an hour, easy magnetic lock
Subscribe to our newsletter
Promotions, new products and sales. Directly to your inbox.