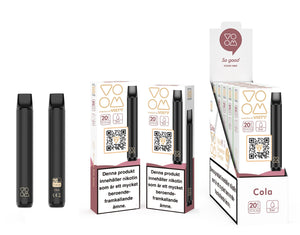 VOOM MINI
Top Disposable E-cigarette For 2022
Your smoking habit may be easier to change than you think, thanks to disposable e-cigarettes that are easy to use, gives tons of flavour and leaves you with a smooth satisfying nicotine delivery.

The main difference between a conventional cigarette and an e-cigarette is that the last one does not have the toxic substances that the conventional cigarette has. Vaping is kinder to your health and is a gentle way to combat the withdrawal symptoms that conventional tobacco leaves you with.

There are thousands of options for vaping devices. Electronic cigarettes or vaporizers were introduced to the public more than a decade ago. Since then, they have gone through numerous innovations as they have become more and more popular. Right now one of the most popular devices are disposable electronic cigarettes, due to their simple design and for being very user friendly.

We understand that it is difficult for a beginner to find the best quality e-cig at affordable prices, that is why disposable e-cigarettes are so popular, they are a good way to get to know the brands on the market, as well as the different e-liquids flavors.

Check out VOOM MINI Disposable E-cigarettes powered by VIXT. They can relish up to 800 puffs and contain 20mg/ml nicotine salt.

QR-codes on our packages

Every time you see a QR-code on any of our "Powered by VIXT" products, make sure you come back an visit us on a regular basis.

We will update and provide more information about VOOM Mini and other - powered by VIXT products here on this website and on the links in the QR-codes.

We will provide more information about the best places to buy them close to your location. And we will offer the possibility for our customers to provide us with valuable feedback so that we know what flavours you are looking to get next? We are dedicated to improving our product line up of quality vaping products.

For now: email us any feedback by clicking here and fill out the contact form. It is greately appreciated.
Don't be fooled by the size, with an elegant, compact design and intense flavors Voom Mini Disposable E-cigarette is better than most disposable e-cigarettes on the market. With the soft matt coating of the pen that provides a non-slip grip, and with subtle but noticable details and incredible flavours and all at an affordable price it stands out from the rest. Buy it as 1-pack, or take the 5-pack and get an even better deal.
The obvious choice when you want to inhale a rejuvenating sweet classic cola flavour.
Crazy good mix of shisha apple and frosty ice!
Luscious grapes are mixed with an icy punch.
Sweet and satisfying mango with an ice touch.
 A smooth blend of berries mixed to perfection.
Who can resist the perfect blend of ripe strawberry and delicious banana blended to perfection?
How To Use Voom Mini Disposable E-cigarette
It's as easy as opening the package and start vaping! Voom mini has a durable and user-friendly design. You don't need to do any configuration. The only thing you have to decide is the flavor you want to try.
IMPORTANT! Do not forget to remove the protective rubber from the mouth piece and the sticker in the bottom of the pen that covers the air inlet. Both of these have to be removed so that the vaporizing process starts once you inhale.
What Are The Features Of The VOOM MINI?
It has a smooth and ergonomic design

It comes with a powerfull 400 mAh battery

It packs 2ml of pure and intense flavour

It cointains 20mg/ml (2%) nicotine salt
Vaping has never been so easy and satisfying as with the Voom Mini disposable e-cigarette. With an elegant, compact and lightweight design, the Voom Mini features a unique coil technology that conveniently brings you pleasurable vapor. The nicotine salt e-juice blend has been meticulously developed to offer the user a pure flavor and a really tasty and sensational puff full of flavour.
Voom Mini is great value for money. In general, disposable e-cigarettes have a capacity of 200-600 puffs, Voom Mini can reach up to 800 puff, depending on each users lung capacity. The typical user will get anywhere between 500-700 puffs. It is recommended to leave some time between each puff so that your palate can enjoy the flavor of the e-liquid.
Voom Mini's goal is to make everything fun, tasty, satisfying, convenient and affordable when you want to quit smoking.
---